Alistar Apologizes For Leading Campaign Against Nyaradzo
Social media activist Alistar Nyamarari Chibanda who recently claimed that Nyaradzo Funeral Services group was profiteering at the expense of its clients has apologised to the end-of-life company and deleted his controversial posts on Twitter posts.
Chibanda on Tuesday used his Twitter page to apologise to Nyaradzo saying he had been misled by people who came to his inbox accusing the company of various misdemeanours.
He said:
We regret there are people who invaded my inbox with comments against Nyaradzo Group with unfounded malicious allegations of business malpractices that are not factual.
I have gone through the tweets and l realised that the comments I made were factually incorrect and defaming.
I did not intend to tarnish or damage the CEO's good name, or the good name of Nyaradzo Group company.
I would like to sincerely apologise for my actions and the tweets have since been removed from my Twitter handle.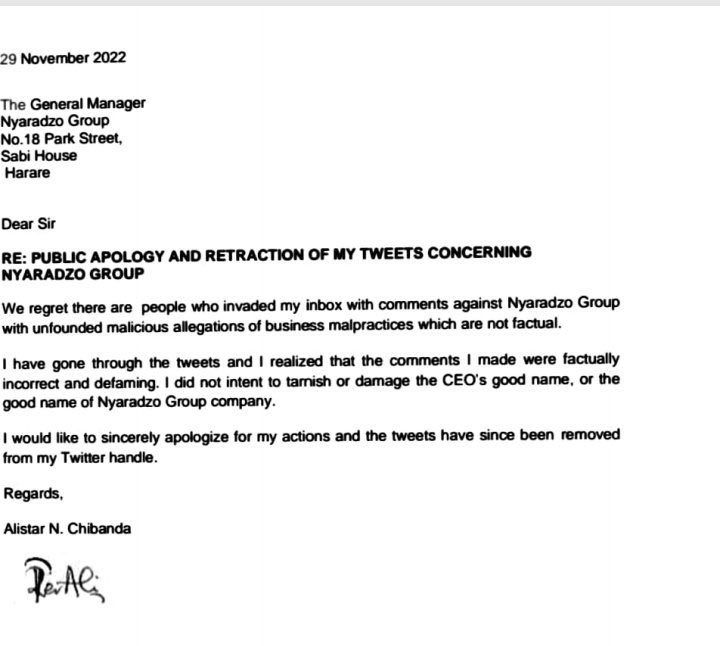 Among the accusations made against Nyaradzo, were claims that the company's funeral policies did not mature while policyholders were also not getting any cashback as per policy terms.
This ignited debate on social media platforms and the Insurance and Pensions Commission (IPEC) eventually got involved and pledged to engage funeral assurers over the issues that were raised.
Last month, Chibanda also issued an apology to National Social Security Authority (NSSA) general manager Arthur Manase after accusing him of corruption.
Early this month, one Farai Paruwani apologised to Nyaradzo after he had claimed that the company had rejected a claim on his policy following the death of his son.
He alleged that he was paying US$19.80 per month for 15 years but only defaulted 3 months within which his son died. He said Nyaradzo refused to bury his son.
— Alistar Nyamarai Chibanda (@alistarchibanda) November 29, 2022
Nyaradzo then got in touch with Paruwani requesting that he furnishes them with evidence supporting his claims.
Paruwani apologised to the company, saying said he had made an error.
In other news,
Everything You Need To Know About 'Ashleigh Moyo' Shashl
Shashl was born Ashleigh Moyo. Shashl is a Zimbabwean RnB musician. She became Zimbabwe's first female musician to be signed by Universal Music Group.
She is the daughter of former Health minister Obadiah Moyo.[1] She has a sister named Sherris.
In 2019, Shashl was reportedly assaulted by Godfrey Utsiwegota at Pablo's Night Club. Utsiwegota was not…continue reading