In Chimanimani East at 12noon voting had not started at Ngangu Community Hall the venue for the Zanu PF 2023 primary elections. The voting has not started reason being there are no polling material. Ngangu Hall is only less than 10km from the Zanu PF district office which is the District command centre of the primary elections.
---
In Mangwe constituency people are seen going to the polling station but in few numbers maybe because it is a primary election. Everything seems to be in order.
---
In Nyanga South, ward 15 Zanu PF members have started to cast their votes. The polling station is at Crosdale secondary school. No violance. No intimidations just queues that started in morning. More people are arriving from different villages.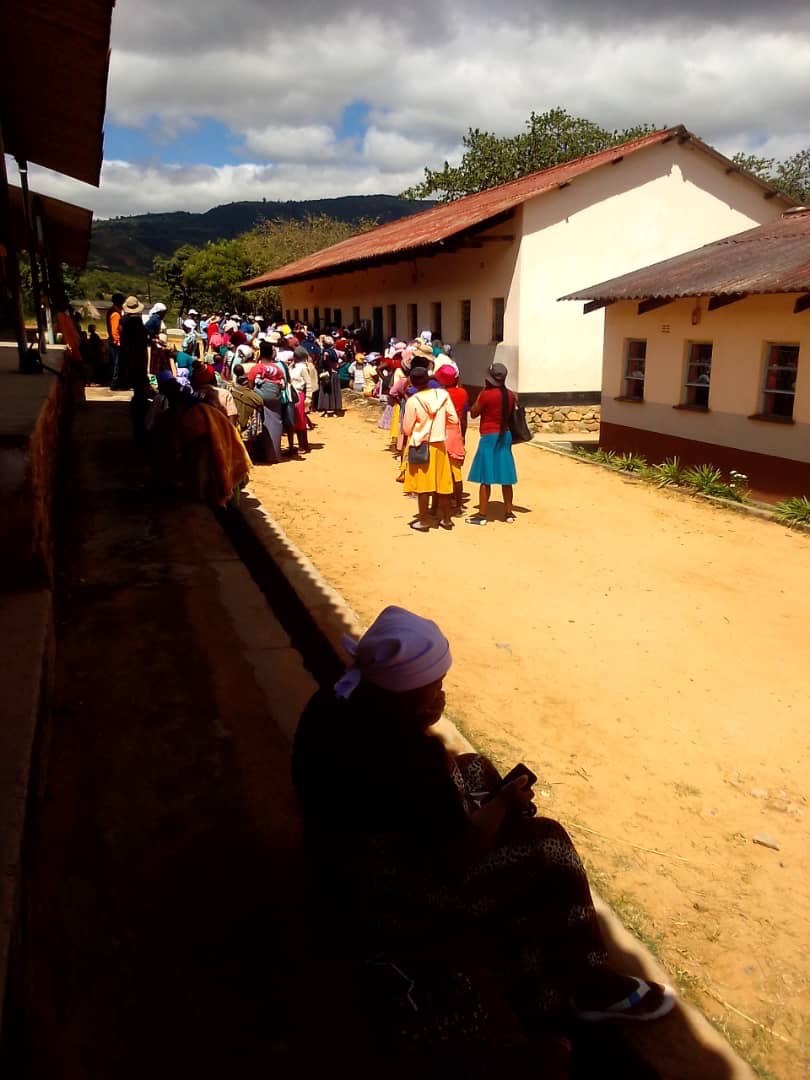 ---
In Kambuzuma, Zanu PF primary elections started at 10:30am to elect candidates for local government and parliamentary positions for Harare Central constituency. Yesterday Zivanai Gaza contesting for the MP position gave his supporters Pespi drinks & some food to eat at the polling station.
---
Zanu PF Masvingo has postponed primary elections to Sunday, March 26 as confirmed by provincial spokesperson Pepukai Chiwewe. He said there has been some delays in the distribution of election material.
---
In Manicaland Province, Chimanimani West by 9am polling had not started in all polling stations in Chimanimani west. No election materials have been supplied and the officers had not arrived. Long queues started forming at 6:30am
---
In Hwange West Victoria Falls urban Voting has been delayed by 2hrs,( starting time being 1000hrs).Reasons for the delays have not been highlighted. The candidates and the campaigning have been peaceful and no allegations have been raised yet.
---
In Rushinga constituency there are 3 women who are contesting for the legislator post currently held by Tendai Nyabani . All women are from the women's quorter namely Chipo Masenda, Margerate Chidzura & Everlyn Padzuru. They have been doing campaigns aound the whole district.
---
In Goromonzi North At Crowhill Primary School, teachers for ED have reportedly volunteered to assist in the Zanu PF primary elections. The process is going on well,& no violent incidents have been reported.
---
In Nkayi North, Moris Nyoni who was alleged to be a faction member of aspiring candidate Stars Mathe, was seen defacing the poster of the other candidate Mlamuleli Tshuma. Both Mlamuleli and Stars seek the position of Nkayi North Constituency.
---
In Bulilima Constituency, it has been reported that Mangaliso Ndlovu has withdrawn participating for Bulilima Constituency seat. He was facing stiff competition from Dingumuzi Phuthi. Earlier, this morning, ZanuPF members were going to around stating that they were prepared to fight and cause violence if Mangaliso could have won.
---
Voting in Zvimba South Ward 6 Kutama village has begun this morning. At Kutama Day Primary villagers have begun to trickle in smoothly with no incident of intimidating or violence where Chiyangwa Philip is seeking re-election as MP while the contender Malinganiso Dexter Taurai is posing a threat as he is seen as the potential winner who can wrestle the seat from Chiyangwa. Mai Tapfumanei and Tungamirai Josiah junior are taking part in the race for the same post. On the other hand Ndlovu Christopher(61) is having sleepless nights with the pressure mounted by Mugugu Portia (56) for the post of councilor for the ward.
---
ZiMetro News notes that in Mashonaland Central, Mbire constituency there are uncontested Councillors in
1. Hondo Derere ward 14
2. Christmas Kachasu ward 1
3. Kavhiku ward 13
4. Musirinofa ward 9
Stay Tuned As ZiMetro News Brings You More Updates…